Students and staff use the library on the daily, in person and online. This is how…
Since 2016 Chris Chang-Yen Phillips has been the host of Let's Find Out a podcast which began as a deep dive into our local history. More recently, Chris has been sharing the ins and outs of his research journey as he pursues a Master of Arts in History at the University of Alberta. I had the great pleasure of speaking with him recently.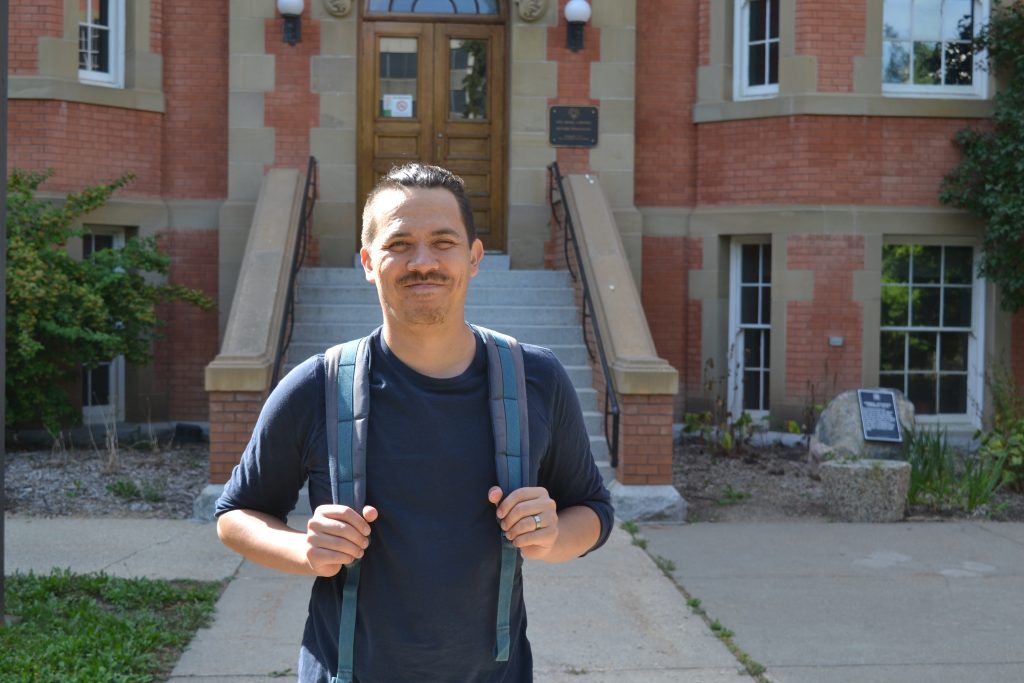 What inspires you as you work towards your MA in history? Was it a big departure from your undergraduate degree – International Development Studies & Environment and Resource Studies?
The degree (from Trent University) focused on biosphere, biology and environmental governance but was also all about relationships. Relationships between wealth and poverty, as well as humans and the biosphere. This then drifted towards the ongoing climate emergency and … well, what can we do in the world? What can we work on? It's all about relationships and understanding the situation both out there as well as in our corner of the world. You need to understand and explore history to feel like you have a stake in what is going on now.
Which historical era or geographic region are you looking at?
Environmental and energy history in the Rockies. Well, before starting my graduate studies I was already fascinated by fossils and the paleontology of evolution. The Burgess Shale in particular. These fabulous fossilised creatures are found at the top of a mountain in Yoho National Park. There were also lead and zinc mines there, in a National Park! Not what you would expect, but for over sixty years the mine existed. My thesis will be looking at who paleontologists were interacting with in Yoho, and how they helped influence who gets access to what spaces there.
What is your approach to research?
I spent many hours at the University of Alberta as a member of the public. I would get guest access (Temporary Networking ID) and do research in the library catalogue. Using keyword searches I would find books and resources and then head up to the stacks. Once I found something interesting, I'd look at the surrounding books in that section and usually find what I needed! I grew up with physical materials and really love books – and post-it notes. Even now, as a graduate student, I much prefer to grab a .pdf, print it up and then scribble my notes all over.
I think the library's service to the community is an essential part of fulfilling the university's mission to "uplift the whole people." There's a great story about self-taught botanist Robert Simonet in the book "Why Grow Here" by Kathryn Merrett. He's famous for developing a strain of double flowered petunias (among other things). Everything he knew about botany and plant genetics he learned from self-study and public access to the Edmonton Public Library and the University of Alberta Library back in the 1930s.
During World War II our supply of seeds from Japan was, obviously, blocked. So it came in handy that he was the first person outside of Japan to independently develop this type of petunias that produced double-flowered heads. The University of Alberta Library can play a really important role in enabling community research like that.
Do you have a "top tip" to share with us?
Sometimes it's helpful to listen to an article rather than read it. I can then associate the information with something that I have been looking at while I listen. I use an app called Voice Dream. I find that in particular for the weekly course readings it's useful.
What's on your bookshelf these days?
Started reading Entangled Life: How Fungi Make Our Worlds, Change Our Minds & Shape Our Futures by Merlin Sheldrake over the holidays. Fungi are fascinating – they solve problems without a brain, they give us bread, alcohol, medicines and have even shaped human history. The more we learn about fungi, the less life on Earth makes sense without them.
Love us on the blog? Chances are, you'll love us on social media! Follow us, @uofalibrary, on Instagram & Twitter!