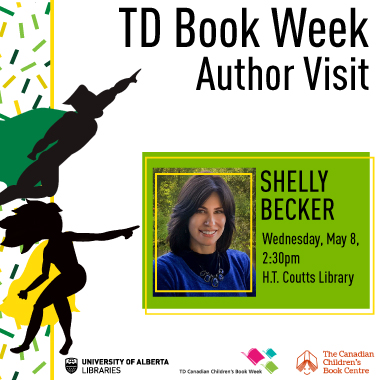 Attention aspiring superheroes! University of Alberta Libraries is excited to announce that the person who wrote the book on superheroes – make that two books on superheroes – is paying a very special visit to help celebrate TD Canadian Children's Book Week.
Shelly Becker, author of the books Even Superheroes Have Bad Days and Even Superheroes Make Mistakes, will be presenting some stories and discussing her experiences writing children's books on Wednesday, May 8 at 2:30pm in H.T. Coutts Library. Thanks to her superhero tomes, children the world over have learned that they too can be superheroes, in spite of those off-moments. Shelly has also authored Mine! Mine! Mine, a book about sharing, as well as 18 novelty books for children. You can learn more about Shelly and her work at shellybeckerbooks.com.
Teachers, aspiring teachers, lovers of children's books and, of course, children are encouraged to register for this exciting event by heading over to the event registration page.
TD Canadian Children's Book Week is an annual celebration of children's literature and reading. Authors will be making visits nationwide to share their love of reading. You can find out more about TD Children's Book Week at its official website.