This is a 3-part series on the Digitization of SEE Magazine and VUE Weekly. In the first part, we gave you an overview of the project, and answer the "how." In the second part, we outlined a short history of the publications (the "what"). Now, we're closing out with the "why", with a description of research possibilities and personal memories!
Research Potential
In print format, these magazines can be flimsy, brittle, and jam-packed with millions – if not billions – of words. In digital format, they become easier to read, easier to search, and filled with research potential!
Beyond just browsing – which is a very fun portal to the (somewhat) recent past – a digital archive of SEE & VUE magazines will open this collection up to new forms of computational research.
One scholar might want to do some textual analysis to look at how gendered language was used in movie or theatre reviews. Another researcher could track the progress of specific artists/performers, art centres, or music venues through the years. Students could write papers comparing how important events were covered in different media outlets in Edmonton, with consideration for the magazines' unique perspectives and biases. The advertisements within the pages can relay all sorts of interesting cultural assumptions. Food historians can collect restaurant reviews to compile trends in the development of local foodways in relation to international trends.
Digitizing a collection like this helps us open up this era of Edmonton's arts and cultural evolution to study.
Stories from the community
The conversation has just begun, but we've already heard some amazing stories from the community. On Twitter, former SEE writer Adam Houston, for example, was inspired to share an old invoice from his movie reviewing days. Former colleagues have already dug up his unforgettable reviews of such classics as Kangaroo Jack and Shanghai Nights.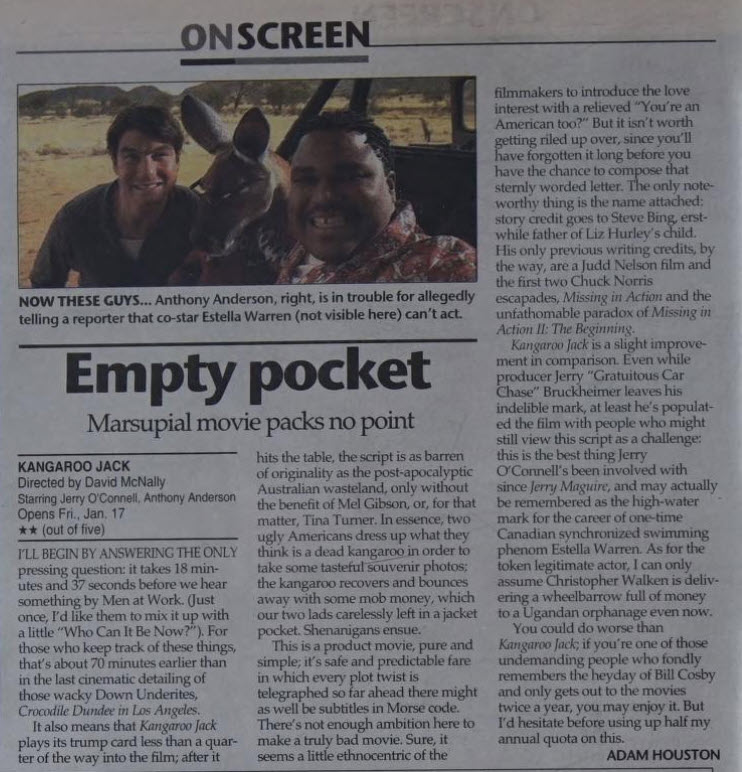 One former reader mentioned that SEE Magazine was hugely important as a teen growing up in Adrossan. An anonymous donor wrote on the crowdfunding comments: "Excited to see this go online! I loved picking up an issue every Thursday and seeing what was happening in Edmonton." While another donor mentioned how it made them homesick for Edmonton.
One of our colleagues reminisces: "My favourite memory of See/Vue was the weekly, give-away contests that supplied me with many free movie/concert tickets while I was a poor grad student. Picked up my copy promptly on Thursday afternoons to check out the contest."
Another colleague – a longtime Radiohead fan – shared a vivid memory of narrowing missing out on the band's Edmonton concert. When he wanted to recall the details, he started by searching "radiohead" in the collection full-text and limited it to 1996, but got no results. But after he switched the year to 1997 and added the search term "dinwoodie", here it was! This review took about 2 minutes to find, thanks to the full-text searching features. Dinwoodie Lounge, located in the SU Building, is still operating after all these years… and sure enough, they mention the same Radiohead concert on their website!
So… Why?
The answer to "why digitize these weeklies?" might not be one reason, but many. There are a lot of different things you can do, from a lot of different perspectives. Maybe you will find a research question among the pages!