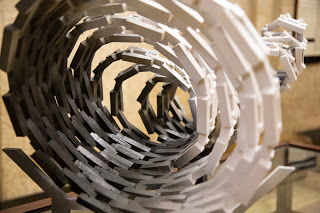 Royden Mills has done it again and set up an astonishing exhibit in the Rutherford Galleria and in Rutherford Library South. Undergraduate students, graduate students and local artists have thought about an issue that matters to them and how it is represented in material that we use.
The hope is to elicit a response in you, big or small, and figure how we feel about these issues of importance.  Life is short and how do we spend our time? 
By going to school, going to work, and then retiring, our infinitely quick, precious lives are over. How do we deal with our own mortality?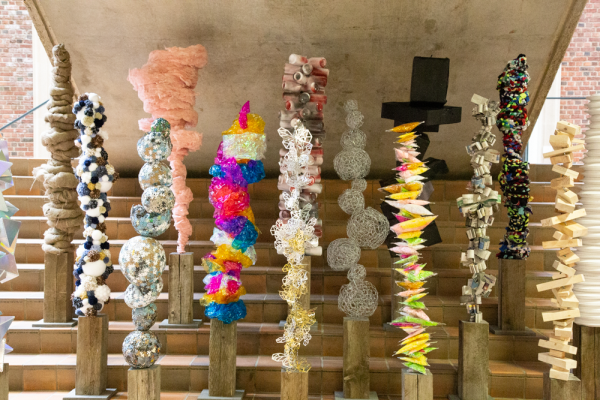 What is life really about? Have we fulfilled our purpose and helped make a difference? Have we stopped living in the present moment, missed brief moments of brilliance or revelations that stand out to change us? When we use material or "matter" it is soon gone; discarded; and forgotten. Matter is how we navigate the world with our bodies and what material we use to do so.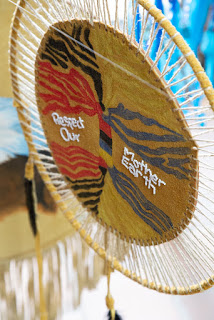 This art exhibit portrays the artists' take on social movements or issues that are important to them. We, as the audience, will see what each piece means to us; what issues in the world we care about; and how we have contributed to its success or decline. Will you let yourself be moved even if you do not completely understand?
Are you willing to see what matters in the pieces of art that are deeply personal and original and stop and to think, "What matters to me?"
Come to the Rutherford Library Galleria to feast your eyes on this unique exhibition.  The Opening Celebration is on Saturday, April 13, 2019 from 1 pm – 4 pm.
Come back on Saturday, April 27, 2019 from 1 pm – 4 pm for International Sculpture Day! There will be a talk led by our artists. Everyone is welcome.
The exhibit will only stay up until May 11, 2019, so be sure to head down to the Rutherford Library Galleria after your exams are done for a relaxing viewing. You will not want to miss out!
More information on International Sculpture Day: https://www.sculpture.org/isday/index.shtml