Written by Tanya Ball
As a part of our commitment to the Truth and Reconciliation Commission (TRC)'s Calls to Action, UAL has formed the Decolonizing Description Working Group (DDWG) who have been working tirelessly on our library catalogue and metadata.
Metadata… that's a scary word, isn't it? It doesn't have to be! Metadata is just the fancy word for describing all of this: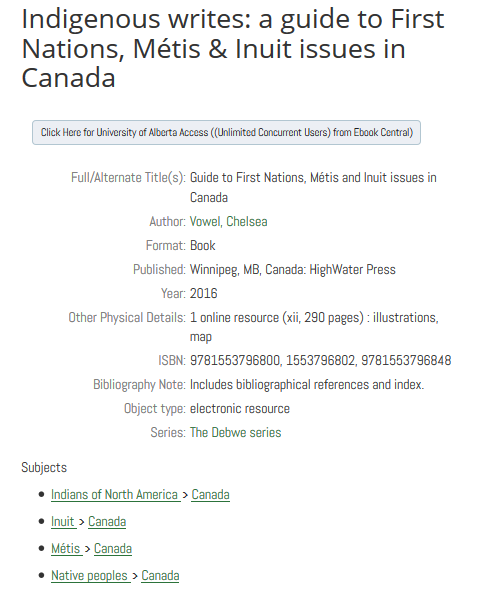 It's information about a material within the library. This can be anything from the title of a work to how many pages it has (which is especially important if you have a book review due in 3 hours).
Metadata seems innocent at first glance, but it can be very slippery. Look again at the image above. Do you see the "Subjects"? Here's a blown-up view: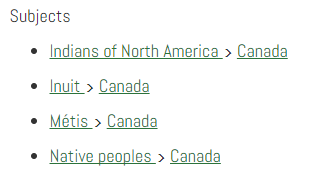 Subject Headings are used to connect similar resources together. These headings are actually created by a larger group of librarians within North America called Library of Congress (LOC). The purpose of LOC and other classification schemes is to make sure that all our libraries are speaking the same language by creating a controlled vocabulary so that students, faculty, and staff can travel from one University to the next and still be able to search. Plus, sharing this information makes it easy for us too — we don't have to create new catalogue records from scratch!
Now that you know that Subject Headings are, you may see some holes in the system. One of the biggest problems with this system is that changing it is a slow process. Language is changing so quickly everyday, that it's tough to keep up!
At this point, we're no longer making excuses.
With reconciliation in the air, we are asking ourselves whether or not we are appropriately and responsibly describing certain items in the library. Looking at our subject headings for Indigenous material, it's clear that we have some work to do — but we can't do it alone.
Making Meaning Symposium
The DDWG has recommended that UAL start seeking advice from community members. One of the many ways that we are branching out is by hosting the Making Meaning Symposium (makingmeaningsymposium.ca) scheduled for February 8 & 9, 2018 at the Faculty of Extension in Edmonton, AB.
The two day event is open for 90 participants — all free of cost! Programming will feature: panel discussions from Indigenous scholars and community members, keynote speakers, working groups, visual components, and food. Lots of food.
We are interested in hearing from different researchers, students and scholars about how how these subject headings has impacted your research.