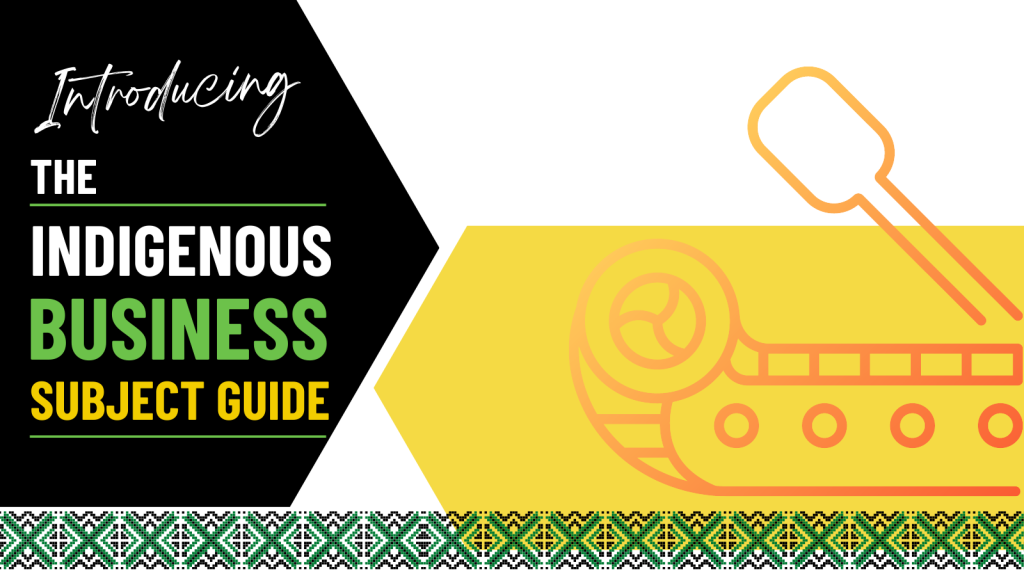 The University of Alberta Library recently published The Indigenous Business Subject Guide. If you have not yet used our subject guides, meet your new best friend when it comes to more quickly finding the information you need! These guides are like treasure maps to the Library's resources for specific disciplines, topics and even courses.
The Indigenous Business Subject Guide provides information sources on Indigenous business and economic development topics, including the following categories:
Studying Indigenous Business
Starting an Indigenous Business
Working with Indigenous Business
Associations and Industry Organizations specific to Indigenous Business
It was important to us that this guide not only be a tool for those studying Indigenous business, but also be handy for Indigenous folks on campus who are interested in starting their own business. This guide was also designed to help users learn how to conduct business in a respectful and mutually beneficial way with Indigenous people and groups.
As decolonization & Indigenization is a Library priority (more information about this can be found on our Mission, Vision, & Priorities page), it's important that Indigenous resources are not just found in our guides for Native Studies but also integrated throughout other disciplines. The inspiration for these guides was also drawn from the increased interest in Indigenous business as shown by the introduction of an Indigenous business class at the Alberta School of Business. As well, the UofA has a focus on interdisciplinary entrepreneurship and innovation, as seen with the new Certificate in Innovation and Entrepreneurship, that is open to students across multiple Faculties.
At the Library we want to continually improve our work to make it as useful as possible for our community of users. This guide is no exception. If you have any thoughts to improve it let us know using the Indigenous Business Guide Feedback Form.
Thank you to Information Services Specialist Geordie Cardinal for his excellent hands on work creating this guide, as well as the Library's Indigenous Initiatives Team, for suggesting this subject guide and providing guidance.

Love us on the blog? Chances are, you'll love us on social media! Follow us, @uofalibrary, on Instagram & Twitter!